A 23-year-old man from the northern province of Dien Bien died from bird flu on November 28, two days after being admitted to hospital, a health official said.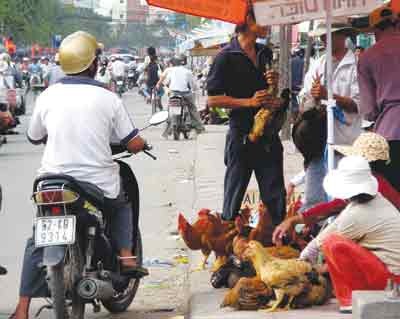 Unchecked poultry sold on a street in HCMC's Binh Chanh District. The threat of bird flu has reappeared in Vietnam, with a man dying in Dien Bien Province November 28 after eating duck-blood pudding. (Photo: SGGP)
His death brings the nationwide death toll to fiver since the beginning of the year, announced the chief of the Preventive Medicine and Environment Department, Nguyen Huy Nga on November 30.
The man experienced symptoms of high fever, cough and breathing problems on November 18.
The victim's condition did not improve and was taken to the province's General Hospital with serious lung damage eight days later. Doctors' effort to save him was futile and he died two days later.
Health workers discovered the man had eaten duck's blood pudding a week before he was ill.
Test results have confirmed he was infected with the H5N1 strain of the bird flu virus.
As the outbreaks of bird flu might occur in recent days, the Preventive Medicine and Environment Department warned people not to kill and eat sick water-fowl but denounce to the local governments who will bury and disinfect the area.
Residents are advised not to transport and sell poultry without clear origin, ensure personal hygiene and immediately go to nearby medical clinics when suffering high fever, cough and breathing problems to have timely treatment.