Two bird flu outbreaks in Ca Mau and Bac Lieu Provinces are reportedly under control. Chau Thi Kim Tuyen, Deputy Head of the Department of Animal Health in Ca Mau, said that veterinarians have safely quarantined the affected areas.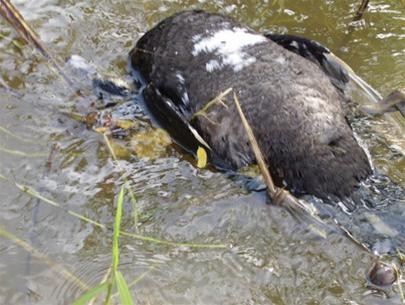 Dead duck thrown into canals and rivers causes difficulties in controlling the epidemic
She added, though, that preventing the recurrence of an outbreak is difficult because some farmers may have been less stringent in their breeding practices of late, owing to the fact that there have not been any problems for quite some time.
After discovering that more than 1,200 of his ducks had died prematurely, Huynh Van Khoa, a local farmer in the Vinh Binh Commune of Bac Lieu Province, contacted state agencies who are in charge of bird flu control. 

Veterinarians from the Bac Lieu Animal Health Department were dispatched on Monday to assess the situation and discovered a subtype of the H5 avian flu virus in the ducks. As a result, 300 live ducks were immediately culled.
The reality is that it's hard to prevent illegal hatching, since state officials are often neglectful of their surveillance responsibilities and many farmers doubt that a major outbreak of the virus will never happen.
The Animal Health Department in the Province of Can Tho warned that local authorities need to strengthen public awareness, implement anti-epidemic measures and curb the smuggling of poultry into Viet Nam in the border areas of An Giang, Kien Giang, Dong Thap, and Long An Provinces.

Link:
Bird Flu Found in Mekong Delta