The Party Committee of Ho Chi Minh City has told state agencies, the Fatherland Front and other party organizations to step up their surveillance of avian influenza.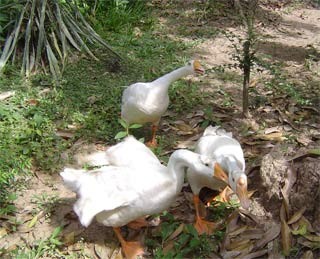 State agencies must step up their surveillance of avian flu (Photo:Hoang Yen)
This is the most important task of 2007, the committee emphasizes. State agencies must raise awareness of the disease among party members, state employees and the general public as well as publicize any cases of bird flu and the measures taken to combat the disease.
Stiff penalties will be imposed for illegal transporting or selling poultry and related products, or for operating an illegal slaughterhouse.
To make sure lawbreakers are caught, the prevention task-force teams must carry out their inspections frequently.
Those in charge of controlling bird flu will be punished if the disease occurs in the area under their jurisdiction.
In addition, local authorities must help farmers switch over from raising poultry to other livestock.
The nation's veterinary force, market monitors and police should work together to stop the smuggling of waterfowl from provinces to the city as well as keep a close watch on hygiene conditions at registered poultry sales.
Health workers must be ready to isolate H5N1 patients and quarantine them in special rooms.
In related news, the Department of Animal Health announced that although avian flu has been detected in a few places, the incidence of the disease appears to be declining.
In fact, no new cases of bird flu have been reported recently in Quang Ninh, Bac Ninh, Nam Dinh, Phu Tho or Hung Yen in the north, or in the Mekong Delta province of Dong Thap.