The recent outbreak of bird flu in the northern mountainous province of Dien Bien shows that the H5N1 virus is still present in the area, a government official said yesterday.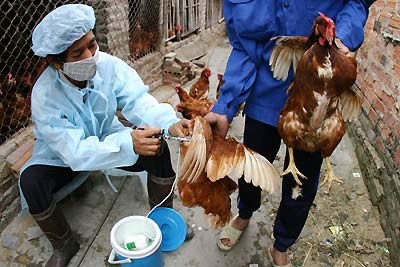 Vaccination plays an important role in preventing and controlling avian influenza.
Fortunately, no fresh outbreak of bird flu has been reported in any previously infected provinces in the past seven days, Hoang Van Nam, deputy director of the Veterinary Department under the Ministry of Agriculture and Rural Development, told the National Steering Committee for Bird Flu Prevention and Control.
Also present at the regular meeting in Ha Noi was Tony Forman from the United Nations Food and Agriculture Organization, who stressed the importance of vaccination in preventing and controlling avian influenza.
Mr. Forman added that poultry farmers should adhere to the national vaccination program as well as the regulations governing incubation and sterilization procedures.
He affirmed the FAO's support for the Vietnamese government's measures to stamp out the disease, including closing incubation farms that fall short of the mandatory veterinary standards and culling unvaccinated flocks of birds.