A bird flu outbreak in Hai Duong province caused by unvaccinated poultry from a small chicken farming operation shows that the H5N1 virus exists throughout the country, warned Cao Duc Phat, Minister of Agriculture and Rural Development yesterday in a meeting of the national steering committee for bird flu prevention.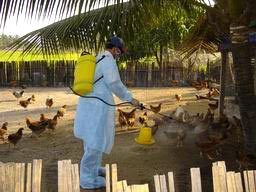 A health worker sprays chemicals to prevent bird flu in the Mekong Delta.
He also ordered authorities in all provinces tighten their control over the transport of poultry and intensify the vaccination campaign.
The Minister added that by March 10, 20 million anti-flu vaccine units will have been imported from China in addition to the 1 million that have already been stock-piled for the next round of vaccinations.