According to the Ministry of Health's General Office for Population & Family Planning's latest statistics, the birth rate has decreased in big cities and among young couples in child-bearing age. Worse, the ratio of boys to girls at birth in Vietnam has increased causing a severe gender imbalance.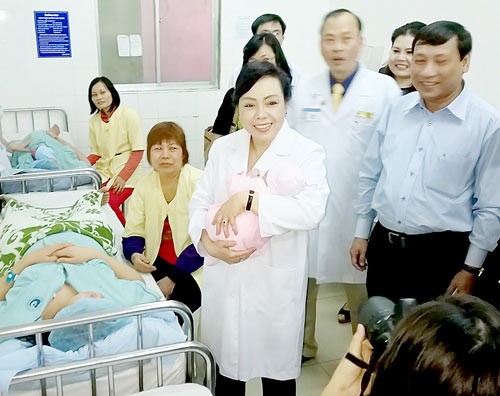 Health Minister Nguyen Thi Kim Tien visits females in Tu Du Maternity Hospital (PHoto: SGGP)
A report of the Bureau for Population Family Planning in Ho Chi Minh City shows that total number of newborn babies in first six months of 2015 was 21,660, a decrease of 3,610 or 14 percent compared to the same period last year.
Tran Van Tri, head of the Bureau, fretted that the birth rate will decline in the future and badly influence to the city's population structure.
Meanwhile, Nguyen Van Tan, deputy head of the General Office for Population Family Planning said that there is an average decrease from 6.4 babies in 1960 to 2.1 in 2001. It means that a couple in big cities has 1.77 babies.
Moreover, females in HCMC has 1.35 babies in 2014; accordingly, Mr. Tan warned if the birth rate does not increase, it will lead to a shortage of laborers, population ageing, causing disadvantages for social and economic development.
However, some population experts said that if the birth rate increases again, by 2050, the country's total population will be 130-140 million.
Another matter in the country's population growth is the gender imbalance. In its latest report on the World Population Day ( on July 11), showed that there has been severe gender equality. In first four months of the year, the ratio of boys to girls at birth in Vietnam was 112.6 males born for every 100 females while it was 112.2 males over 100 females last year.

According to a survey conducted in 2009, the rate of boys to girls was112.5 born males to 100 females and there is just a slight imbalance between urban and countryside districts. However, a study in 2014 showed that the rate of boys to girls in rural districts increased drastically with 113.1 males born and 100 females while it was 110.1/ 100 males and females in big cities.
The gender imbalance currently is due to young parents have taken many pressures of psychology, besides they have chance to access gender selection service, said Le Canh Nhac, deputy head of the Planning Office.

The Ministry of Health added that the problem is because of the population and family planning sector have not worked well. The state fund for the sector has remained unchanged while there is no foreign fund for the sector.

As a result, the Ministry of Health asked local governments to pay more attention to population and family planning as well as supervise gender selection to issue penalties on medical facilities to provide such services.