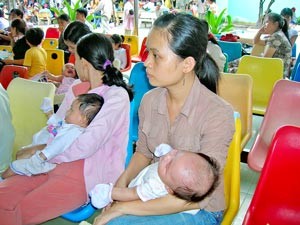 There are 864,000 babies born in the first nine months of this year
The fall in the birth rate this year will not meet the Government's target, an official from the General Office for Population and Family Planning said at a conference on population in HCM City yesterday.
Nguyen Van Tan, deputy general director of the agency said the crude birth rate has fallen by just 0.1 percent against a target of 0.3 percent.
Provinces have reported that 864,000 babies were born in the first nine months, 40,000 higher than in the same period last year.
The number of third children in a family is 10 percent higher at 93,000.
Mr. Tan admitted that birth-control programs have not been as effective as hoped, with the number of people opting for sterilization and pregnancy-prevention falling sharply.
He also warned about a growing imbalance in the sex ratio, saying by 2030 around 3 million men would be unable to marry because there would not be "enough" women.
The conference agreed to address issues related to the population structure next year.