Within just a day, one more person has succumbed to the   mysterious skin disease in Ba To District in the central province of Quang Ngai, bringing the death toll to 21 so far.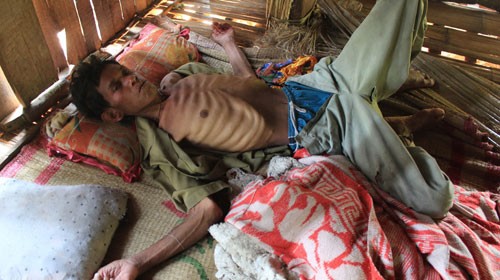 Pham Van Nhoc dies on May 7 from the mysterious skin disease (Photo: Tuoi tre)
Pham Van But, chairman of Ba Dien Commune in Ba To District, informed that on May 7 a 50-year-old man from Reu Village named   Pham Van Nhoc, had succumbed to the yet unknown skin disease.
Nhoc was being treated in Hospital C in the central city of Da Nang ever since he was infected.   Unfortunately his condition did  not improve and the disease took yet another toll.
On the same day, medical experts from the Department of Preventive Medicine and the National Institute of Hygiene and Epidemiology in Hanoi took more samples of soil and blood for investigation, as asked for by the Ministry of Health.
Sub-divisions of the Ministry of Health will now conduct more intensive clinical, microbiological, environmental and epidemical research to determine the cause of the disease.
The ministry will also announce test results of leading medical experts. So far no contagious factor of the disease has been found as none of the patients experienced fever after they were infected with the disease.
It is highly possible that people suffered from poisoning due to direct contact with toxics or by eating contaminated food.
Most of the patients suffered from malnutrition and ethnic people usually eat mouldy rice, hence all these factors are being taken into account.

Related articles:
One more death from bizarre skin disease in Quang Ngai Province
Ministry issues new treatment plan for bizarre skin disease
Ba To District offers support to victims of bizarre skin disease
'Ricketsia' virus identified as cause of bizarre skin disease
Quang Ngai seeks expert advice on baffling skin disease
Vietnam to seek WHO help to diagnose strange skin disease 
Another succumbs to bizarre skin disease in Quang Nai Province
One more dead from strange skin disease in Quang Nai Province
Bizarre skin disease continues to spread