Head of the National Committee for the Prevention of Blindness Dr. Nguyen Xuan Hiep said that in 2015, hospitals nationwide examined 23,327 people having diabetes and detected 12,778 of them with eye disease.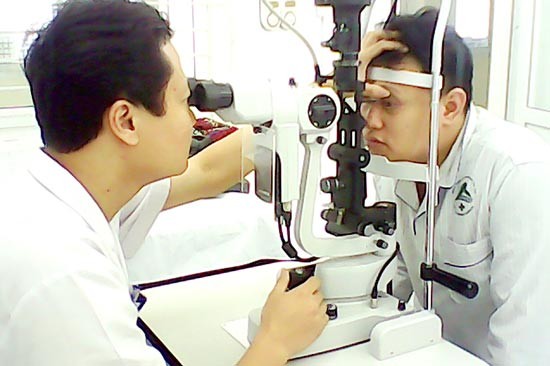 People should have periodical eye check-up (Photo: SGGP)
Dr. Hiep said this at an Ophthalmology conference on October 20 held in the Mekong delta City of Can Tho with the participation of 1,400 Vietnamese and international eye experts.

2,888 patients had received treatment; accounting for 2.52 percent of total diabetes patients having eye diseases.

According to Dr. Nguyen Xuan Hiep, Vietnam has set its target to reduce of avoidable blindness rate. Meanwhile the rate of people with corneal scarring because of trachoma decreased, retinal disease due to diabetes has leaped.

As per the latest survey carried out in 14 cities and provinces, showing that the rate of blind people aged more than 50 years old accounts for 1.8 percent, a drastic decrease compared to 4.1 percent in the period 2000-2002.

The number of blind people also dropped from 443,700 in 2000 to 329,300 in 2015. Of 329,300 people are blind in both eyes, 243,700 people are blind due to cataracts; additionally, 13,173 people are blind due to glaucoma and 13,502 people are blind due to corneal scarring from different causes.

The rate of blind people due to diabetes rose because endocrinology and internal medicine loosely connect with ophthalmology in treating diseases as well as monitoring complications in eye among diabetes patients.
Dr. Hiep added that the country is striving to reduce the rate of avoidable blindness from now to 2020 among people aged 50 to 1.6 percent. The health sector is increasing information of the disease to the public as well as adopting measures to prevent blindness. Especially, the pilot examination and treatment retinal disease caused by diabetes will be provided in major eye centers.

At the conference, the international Orbis organization and Diabetes Fund sponsored a project to care for eyes of diabetes patients in the period 2016- 2020 in Eye Hospitals in Ho Chi Minh City, the Eye Hospital, the General Hospital in the Mekong delta province of Tien Giang and the General Hospital in Tien Giang Province's Cai Lay District, Eye ward in Nguyen Tri Phuong Hospital in HCMC.

The country has 378,700 blind people of all ages.