Professor Nguyen Thanh Long, Deputy Health Minister, said that blindness in Vinh Chau town of the Mekong Delta province of Soc Trang is an urgent medical matter related to processing purple onions.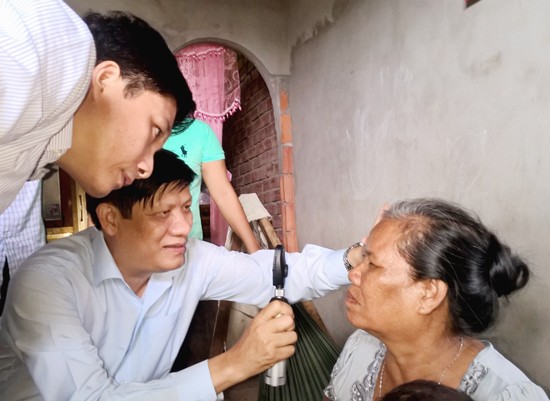 Deputy Health Minister Thanh Long is examining eye of a resident in Vinh Chau Town in Soc Trang Province (Photo SGGP)
There are so many purple onion farmers get blind, People's Committee in Vinh Chau Town has conducted 3 surveys from 2000 until now and from the Minister of Health's studies in last four months, Dr. Long said that most people suffered corneal lesion which leads to blindness through checking eye infection and seeing how farmers to grow and preserve the vegetable.
As per the figure of Ho Chi Minh City-based Institute of Hygiene and Public Health's survey, there are total 1,248 blind people in Vinh Chau Town including 967 people with one blind eye ( accounting for 77 percent) and 281 people having 2 blind eyes ( accounting for 23 percent).

The rate of blind people in Vinh Chau town is 6 people over 1,000 population and it is in Ward 2 and Vinh Hai Commune, where most of local residents grow purple onions, is two times higher than the common rate of Vinh Chau town with 11 over 1,000 population.

Dr. Vu Tuan Anh from the National Eye Hospital said that cornea inflammation could relate to acts involved in growing onions such as cutting the onions and working the soil as soil dust, onion oil and even mildew in onion also cause the eye disease.

Untimely corneal lesion treatment or mistaken treatment will cause vision loss and blindness.

Dr. Le Hoang Son, chief of the medical clinic in Vinh Hai Commune in the Mekong delta province of Soc Trang's Vinh Chau Town, said that not all onion farmers go blind. For instance, Ngo Phet, 66, in Au Tho A village , has grown and preserved the vegetable for tens of years yet no-one in his family is blind.


Dr. Long said that onion processing units must conduct good labor hygiene and laborers must have periodical medical eye check-up to early discovery of the disease. The health sector must increase information and raise awareness to local people that they must wear protective eye glasses and equipment while processing onion.
In addition, they have to use eye drops or saline solution and wash their hands with soap regularly everyday. Inhabitants should go to medical clinics for eye treatment not to use tradition treatment ways.
Vinh Chau is one of the largest onion area in Vietnam, with 4,000-7,000 ha a year.