Seven-year-old Dang Gia Hung from the northern province of Bac Ninh, who underwent a bone marrow transplant at Central Pediatrics Hospital in Ha Noi, returned home on Friday with a bunch of presents from the hospital and staff.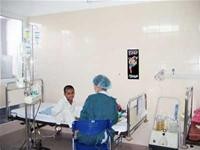 Dang Gia Hung is in the special room before the surgery
Hung's liver is functioning normally and his general health is excellent two months after the transplant, for which the hospital footed the VND300-million bill.

The Central Pediatrics is planning to do two more bone marrow transplants this year.