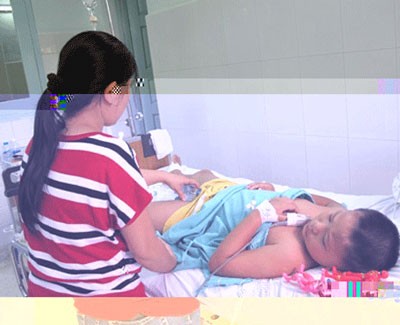 Hoang Viet being looked after by his mother in the hospital
An eight-year-old boy from the southern province of Binh Duong was saved by doctors in Ho Chi Minh City, after his only kidney was damaged in a traffic accident on November 18.
Eight-year-old Pham Hoang Viet was hit by a motorbike in the back on November 18. After the accident, he felt pain on his right side and found blood in his urine.
His relative rushed him to the hospital and after a scan and ultrasonic check, doctors discovered that the boy had only one kidney, which already had three cuts in it but the organ itself was in good condition.
Dr. Truong Quang Dinh, deputy director of Children Hospital No.2 in Ho Chi Minh City said that after one week of treatment in the hospital, there was less blood in the boy's urine but he needs more time to recover and further checks before the kidney can function.
According to doctors, 40 percent of injuries in children are kidney related but it is still rare to find a child with only one kidney.