Dr. Nguyen Van Vinh Chau, director of the Tropical Diseases Hospital in Ho Chi Minh City, assured the public on August 30 not to be worried about 'Naegleria Fowleri', the brain-eating amoeba, after one man succumbed to the infection recently.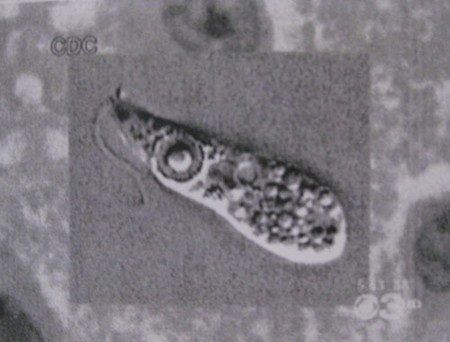 'Naegleria Fowleri', the brain-eating amoeba, under a microscope
The Tropical Diseases Hospital had admitted the 25-year-old male patient with high fever, respiratory problems and unconsciousness.
Doctors suspected the patient had been infected with a kind of amoeba as he said he had caught a few days before while trying to catch fish in a pond in his hometown.
A day later he felt ill and blood tests proved the presence of a brain-eating amoeba.
Dr. Chau said that this is the first case of its kind in the country. According to the patient's blood samples, experts announced the presence of a brain-eating amoeba as being the cause of his death.
Naegleria Fowleri can invade the central nervous system via the nostrils. The penetration initially results in significant necrosis of and hemorrhaging in the olfactory bulbs. From there the amoeba climbs along nerve fibers through the floor of the cranium via the cribriform plate and enters the brain.
The organism begins to consume cells of the brain piecemeal by means of a unique sucking apparatus extended from its cell surface.
Dr. Nguyen Hoan Phu, who directly examined and treated the patient, said the patient showed the initial symptoms including changes in taste and smell, headache, fever, nausea, vomiting, and a stiff neck.
Secondary symptoms include confusion, hallucinations, lack of attention, ataxia, and seizures. After the start of symptoms, the disease progresses rapidly over three to seven days, with death occurring from seven to 14 days after exposure.
Naegleria Fowleri is a free-living form of protist typically found in warm bodies of fresh water, such as ponds, lakes, rivers, and hot springs. Although this occurs rarely, such an infection nearly always results in the death of the victim. The case fatality rate is estimated at 98 percent.
Accordingly, those who usually swim in ponds, lakes, rivers, or watery environment should think of Naegleria Fowleri infection if they experience such symptoms afterwards.
However, people don't need to be so worried because there have been very few people suffering from such infection so far. Physicians M. Fowler and R. F. Carter first described human diseases caused by amebo-flagellates in Australia in 1965. Since 1965, more than 144 cases have been confirmed in different countries.