The holiday spirit has spread to Ho Chi Minh City hospitals where rooms are decorated in Christmas colors with flying reindeer, pine trees and colorful lights, especially in children's rooms.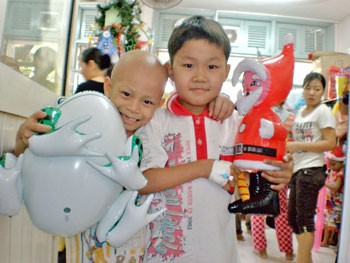 Young patients of the Tumor Hospital's Internal Medicine Department No.3 receive gifts from Santa Claus.
Volunteers and benefactors dressed up as Santa Claus recently and delivered presents to delighted young patients around the city.
In the Cardiovascular Department of the Children Hospital No.2, a sparkling fairy garden has been set up in the corridor. The garden comes alive at night in an array of dazzling colors, providing a welcome oasis for children and their families.
The Children Hospital No.2 is also working with sponsors to organize a music performance and offer 1,000 gifts to children on December 23, said Dr. Nguyen Thi Hanh Le, deputy director of the hospital.
The Children Hospital No.1 and Department of Internal Medicine No.3 of the Tumor Hospital have been visited by several charity delegations in recent days. Young patients seem to forget their illnesses, distracted by hundreds of gifts, confectionary and playtime with Santa Claus.
Local doctors say strength of spirit plays a very important role in the treatment of cancer patients especially. Joy helps them forget pain, combat disease and enjoy life.