British Airways cabin crew entered a second day of strikes Sunday that forced the cancellation of hundreds of flights, but the airline insisted thousands of passengers were still able to travel.
The Unite union said 80 percent of its 12,000 cabin crew members walked out on the first day Saturday of the three-day strike but, amid a war of words between the two sides, BA reported a good turnout at its two main airport hubs.
By Saturday evening, 1,157 cabin crew had turned up for work at London's Heathrow and Gatwick airports, a spokesman said, accounting for 97 percent of crew on duty at Gatwick and 52.5 percent at Heathrow.
As a result, the airline said it was reinstating some short and long-haul flights over the next few days and expected two-thirds of passengers to fly.
Members of Unite, Britain's biggest trade union, walked out at midnight Friday after talks with BA chief executive Willie Walsh on a dispute over working conditions broke down in acrimony.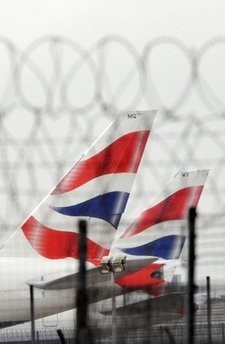 Grounded British Airways aircraft are parked at Heathrow Airport outside London.
More than 1,000 flights were set to be cancelled in the initial phase of the action -- the first by BA cabin crew for 13 years -- with a second walkout to follow for four days from March 27, targeting the busy Easter holiday period.
Prime Minister Gordon Brown has condemned the strike, saying it was "in no-one's interest" and would cause "unacceptable inconvenience" to passengers.
He urged BA management and workers to hold fresh talks as soon as possible.
But the main opposition Conservatives have accused him of a weak response, because Unite is a major donor to his ruling Labour party.
Commentators, noting that railway signal workers also voted Friday to strike in the coming weeks, have said the action could severely damage Brown ahead of an election expected on May 6.
BA initially said a total of 1,100 flights out of the approximately 1,950 scheduled to operate during the first strike would be cancelled.
But it said it expected to handle 49,000 passengers each on Saturday and Sunday, compared to the 75,000 average for a normal weekend day in March.
As well as using non-striking staff, the airline is offering travellers seats or leasing planes and crews from more than 60 other carriers, including budget airline Ryanair.
In a video message late Saturday, Walsh said the contingency plans had worked "better than expected".
"We've had a great turnout at Gatwick -- incredible, every single cabin crew rostered to fly today has come to work and we've had about 50 percent of our cabin crew arrive at Heathrow, so they are voting with their feet," he said.
He added: "I really do deeply regret that people's travel plans have been disrupted, but it's great to see people sticking with BA and people backing BA and with their support we will definitely get through this."
Unite, however, claimed planes were stacking up on the ground, with 85 at Heathrow alone, and said that in one two-hour period during Saturday just 10 planes left Heathrow instead of the normal 50.
The union's joint leader Tony Woodley on Friday angrily accused BA of wanting "to go to war" after the talks broke down.
The airline is attempting to revise working conditions as part of a cost-cutting push, which the union says will lead to the introduction of a "second-tier workforce on poorer pay and conditions".
BA has warned staff taking part in the strike they will lose lucrative reductions on long-haul flights.