Vietnamese Ministry of Health in cooperation with the Ministry of Education and Training yesterday in Hanoi launched a media campaign to wash hands aiming to raise people's awareness and the importance of hygiene in protecting ones' health and preventing diseases.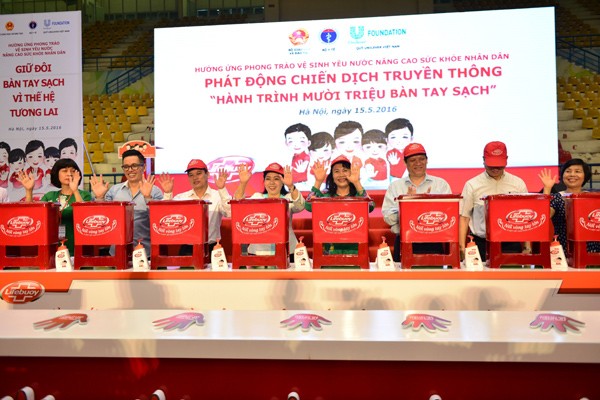 At the launching ceremony (Photo: SGGP)
At the launching ceremony, Health Minister Nguyen Thi Kim Tien said that washing hands with soap seems a simple thing and everybody can do it regularly, yet in reality, the number of people often washing hands with soap is low including medical workers.
As per the Ministry of Health's latest survey, only 23 percent of people wash hands before eating and 36 percent people wash hand after toilet. Hand washing right way is one of the best ways to protect yourself and your family from getting sick, said the minister.
Studies proved that a hand has million germs to cause diseases; accordingly, clean hands can stop germs from spreading from one person to another and throughout an entire community.
Another study carried out by the Ministry showed that the number of malnourished kids under five years old can reduce by 10 percent if mothers regularly wash her hand with soap. Kids have illness namely influenza, diarrhea, hand-foot-mouth resulting from improperly cleaning hand. Keeping hands clean through improved hand hygiene is one of the most important steps people can take to avoid getting sick and spreading germs to others.

The campaign will be implemented in the country from May to October, 2016.

In the northern provinces of Hai Duong and Nam Dinh and the Mekong delta province of Kien Giang the campaign will be conducted in most of communes. The highlight is a contest in the campaign's fanpage.

Related agencies should focus on encouraging people to clean hands with soap before cooking and eating as hand hygiene as part of an infection prevention and reducing an avoidable burden on health systems

The Ministry of Education and Training will increase information of cleaning hands with soap in schools.