To access radiotherapy, cancer patients allegedly had to give bribes to medical technicians and doctors at K Central Hospital in Hanoi, it was recently revealed by inspectors from the Ministry of Heath.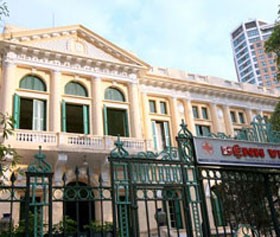 K Central Hospital (Photo: Lao Dong Online)
K Central Hospital is always overcrowded with patients, as it is one of the leading cancer hospitals in the country. Every day, the hospital receives between 1,200 and 1,500 patients, 70 percent of whom need radiotherapy.
 
In 2000, Branch 1 of the hospital was equipped with a modern accelerating machine, worth US$1.4 million, with a capacity of 150 patients a day.
 
Since the machine could not meet the increasing number of patients that need radiotherapy, in 2006, the hospital entered into partnership with the Medical Equipment for Cancer Treatment Joint – Stock Company to install another machine that cost nearly $1.2 million at Branch 2.
 
When the second machine was put into operation, the first one at Branch 1 stopped working properly and its capacity began declining to 40 percent. As a result, the number of patients going to Branch 2 for treatment increased rapidly. 
 
Due to the increasing number of patients to the hospital, the inspectors revealed that to come high on the list of priorities, many patients had to give bribes to medical technicians or doctors to gain quick admission, as well as timely treatment.
 
Once they had been admitted, 30 percent of patients said they had to pay bribes to get radiotherapy.
 
The investigation continues.