Consumers in northern Viet Nam have been shaken by the information that tons of candy in the market contain the food additive calcium carbonate, and authorities are not clear how to deal with the situation.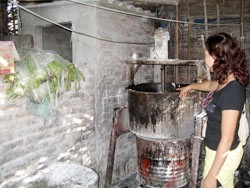 Candy processed near the toilet (Photo:TNO)
Inspectors from the Department of Health, the Environmental Police Bureau, the Food Safety Bureau, the National Nutrition Institute recently found at least three candy factories - Minh Khai (Hoai Duc, Ha Noi), Phuc Thanh Khang and Thanh Xuan – with the additive.
Owners of these factories admitted to mixing 25-30% calcium carbonate in their products. This chemical was bought at Duong Lieu, Hoai Duc at VND1900/kg and the candies sold at VND12000-15000/kg. At the time of inspection, the three factories had 8520kg of such candies and 2935kg of calcium carbonate. They had already sold 364kg of the candy.
Inspectors say that the factories have: produced food without announcing standards; used ingredients not mentioned in the stipulated declaration on each product; and used poor quality ingredients.
However, concerned authorities are still wavering between fining the owners for violating food hygiene and safety regulations and transferring the case to the investigative police to initiate criminal proceedings, if there is evidence of crime.
Furthermore, they decided to destroy the evidence – confiscated candy, and have not discussed a solution to deal with the candies that are already in the market.
The National Nutrition Institute under the Department of Health has said that calcium carbonate is a food additive and safe for health as long as it is used in accordance with standards of purity levels of food additive (JECFA additive list and standard 3742/2001/QD-BYT), but has not specified if it can be used or not for making candy.
Information from the food additive list shows that calcium carbonate possesses the properties of adjusting acid levels, emulsifying, as well as resisting curdling. It is used in 11 groups of food including frozen seafood, aseptic fruit juice and champagne. Candy is not mentioned, so it is possible that the additive is not allowed to be used as an ingredient in candy.
The public want clear answers from appropriate authorities to these questions: Is calcium carbonate allowed in candies?; and do candies containing 25-50% calcium carbonate affect health?
Public worried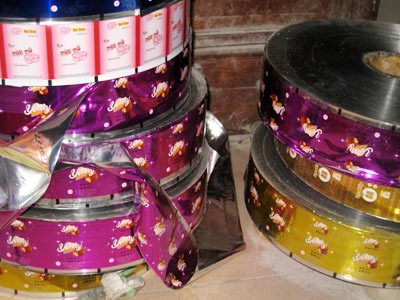 Such candy bags are available in northern Viet Nam (Photo:TNO)
Residents of mountainous areas like Yen Bai, who are used to this kind of candy, now refuse to buy products of unclear brands as they are afraid of harmful effects to their health. Owners of candy factories have affirmed that the quantity of candy sold has decreased rapidly although it is high season time (Mid-autumn Festival).
It is clear that the local government has not paid proper attention to this issue since Vuong Duy Huong, Chairman of Hoai Duc Province People's Committee, evidenced surprise at the news and admitted that focus on food safety issues in the area was still insufficient.
For example, investigations have found that at many candy factories, there are lots of flies and mosquitoes around, or some cooking facilities are located next to toilets.
The Ministry of Health has destroyed more than 8.5 tons of candy thus far, and producers these firms could have their product standard certification revoked, says a health official.