Dr. Lam Quang Chung, deputy director of the Department of Health in the central province of Khanh Hoa, said the Disciplinary Committee of Cam Ranh Hospital has proposed a penalty on doctors who carelessly cut the bladder of a 21-month-old boy.
The Disciplinary Committee has proposed that the chief surgeon, Pham Van Toan, also head of the trauma surgery department, be severely reprimanded and his assistant, Dr. Tran Ngoc Nghia, deputy head of the general surgery department, receive a penalty.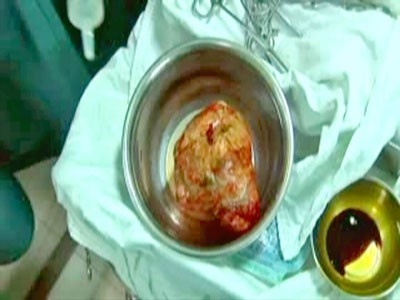 The stone removed from the bladder of an 82-year-old man (Photo: SGGP)
The unfortunate 21-month-old boy is being treated at the Pediatrics Hospital 2 in Ho Chi Minh City after his bladder was cut by doctors performing bubonocele surgery to remove an inguinal hernia--a protrusion of abdominal cavity, through the inguinal canal. 
The boy is being given special care in the Intensive Care Unit of the hospital, where doctors are closely observing the boy's condition. Later he will undergo a surgery to rebuild his bladder.
Senior faculty at Cam Ranh General Hospital admitted to the carelessness of the surgeons and agreed to support all treatment fees.
Medical experts said they could not believe such an incident could have happened while performing bubonocele surgery, since an inguinal hernia is easily identifiable and not even located near the bladder.
In related news, Dr. Nguyen Van Muoi, director of the General Hospital in Binh Tan District in HCMC announced that the hospital had just conducted a 90 minute operation to remove a stone from a patient's bladder. The stone was 100x98x100 millimeters and weighed more than 800 grams.
The 82-year-old patient, Do Van Ngo, was hospitalized with high fever and diagnosed with a big stone in his bladder. He is presently recovering.