A drill aimed at building the capacity of health workers to cope with the Middle East Respiratory Syndrome Coronavirus (MERS-CoV) was launched by Children's Hospital 1 in Ho Chi Minh City on June 25.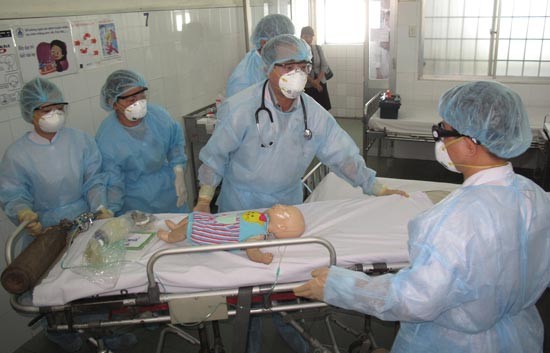 Medical workers are practicing the hypothetical situation (PHoto: SGGP)
A hypothetic situation is that two suspected patients need to be transferred to the hospital.

First, a kid patient was hospitalized by his family with symptoms of cough and fever. His family thought to be infected with MERS. After filling out the healthcare declaration in the hospital, medical workers will give the patient's relative face mask and guide them to special section for MERS-infected people to receive treatment and consultation.

The second is that a kid suspected to have MERS was transferred from small hospital in district. Immediately, medical workers wear protective uniform to be ready to provide treatment to the patient. After examination, doctors moved the kid to the quarantine section for MERS-patient.

Dr. Nguyen Thanh Hung, hospital director, said that the drill was held in accordance with the scenario; moreover, all 1,700 medical staffs were trained about MERS-CoV prevention.


Steering committees on MERS-CoV prevention and control were already set up at four hospitals including Cho Ray, the Hospital for Tropical Diseases and Children's Hospitals 1 and 2, to receive and treat MERS-CoV patients, if any.