The hospital surgeons have carried out 12 kidney transplants and 8 liver transplants on children from their relatives within 10 years.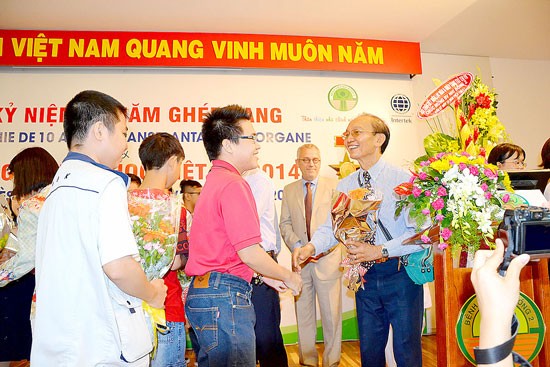 Patients give flower to express their gratitude to Dr. Tran Dong A of Children Hospital No.2 (Photo: SGGP)
The first kidney transplant was carried out on Huynh Nguyen Nhat Truc, 21 from the highland province of Gia Lai. The surgeon team included 70 professors, doctors and French medical experts.
The donor was her mother. After the operation, Truc's health condition is stable.
This first operation was paving the way for next surgeries including kidney and liver transplants in the hospital.
The eighth liver operation took place on September 4 on one year old Phan Nguyen Minh H. from Ho Chi Minh City's district 8. She was suffering shrunk biliary tract in the last stage leading to infections. She needs a liver transplant. The operation took 15hours with the cooperation of surgeons from Saint Lue Hospital in Belgium.
By statistics, Vietnam has around 96 people suffering from shrunk biliary liver disease and half of them need liver transplants.