China said Thursday it will impose penalties on steel imported from the United States and Russia, claiming the countries were allowing it to be sold at a cut price.
The preliminary ruling requires importers of grain-oriented electrical steel, which is widely used in the power industry, to pay deposits from Friday, the commerce ministry said in a statement on its website.
"The domestic grain-oriented electrical steel industry suffered material damages" due to the dumping, the statement said following an investigation.
Dumping occurs when a foreign company sells a product in another market at less than normal value.
The ruling is the latest in a series of disputes between China and the United States, which have heightened trade tensions between the economic giants.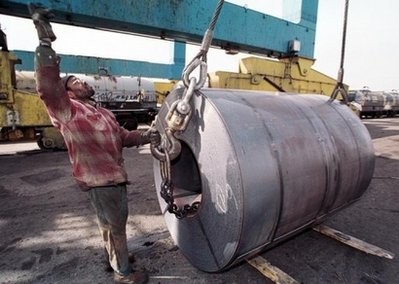 A port worker signals for an overhead crane operator to hoist a huge coil of steel at a port in New Jersey.
Companies will have to pay a deposit based on the difference -- up to 25 percent -- between the normal value of the steel and the cut price, the ministry said.
China also will charge for the first time an anti-subsidy deposit after the probe found US companies received government subsidies on grain-oriented electrical steel.
The deposits will be repaid to the importers if the preliminary ruling is overturned, according to Chinese rules.
Simmering tensions between Washington and Beijing boiled over in September when the Obama administration announced it would slap duties on Chinese-made tyres to protect US producers.
Since then, the world's number one and three economies have traded a series of accusations of unfair trade practices.
In one of its retaliatory moves, Beijing lodged a complaint at the World Trade Organization and launched a probe into possible unfair trade practices involving imports of US car products and chicken meat.