Even though health authorities in Hanoi had shut down the Maria Chinese Clinic on 65-67 Thai Thinh Street in Dong Da District on July 16 after the death of a 34-year-old woman patient, the clinic opened doors for regular business the next morning.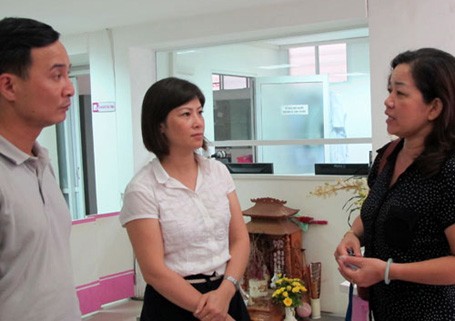 The supervision team grill an employee of Maria Clinic (C) who was still working at the clinic when the team arrived.
Health inspectors and the police conducted a surprise visit to the clinic on July 17, after receiving information that the clinic had opened regardless of a ban.
When authorities reached the premise they found that the main door of the clinic was open and two receptionists were on duty, while 10 other staffs and one doctor were going about their usual activities, though there was no sign of patients being treated.
Dr. Nguyen Quang Cu explained his presence at the clinic for consultation to those people who were already being treated at the clinic and to transfer them to other medical centers.
On the same day, Tran Nhi Ha, from the Department of Health, affirmed that no Chinese doctor had been given a license to practice at the Maria Chinese Clinic and that up to now only four Chinese doctors had license to practice in Hanoi.
Of these, one was working at 58 Son Tay Street in Ba Dinh District; two were at a clinic on 298 Nguyen Trai Street in Thanh Xuan District; and one at 108 Tran Phu Street in Ha Dong District.
A supervisory team led by Nguyen Khac Hien, director of the Department of Health in Hanoi, conducted a surprise visit at a clinic on 59 Khuong Trung Street in Thanh Xuan District and found a Chinese doctor examining patients, even though he had no license or permit to work in the clinic.
Related article:
Chinese doctors absconding after death in clinic
Clinic claims no responsibility for death of woman