Two Chinese doctors from the Maria Chinese Clinic in Hanoi are absconding since July 15, after a 34-year-old woman patient died while undergoing intravenous therapy.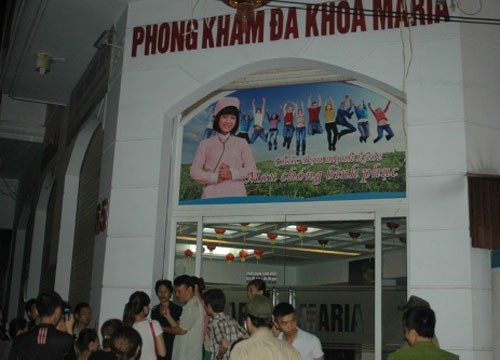 Phong's relatives demand an explanation of the death at the Chinese clinic
Nguyen Thu Phong, from Dong Da District in Hanoi went to the Maria Chinese Clinic at 65-67 Thai Thinh Street in Dong Da District for a medical check-up on the morning of July 14, as she felt unusually exhausted after she had returned from work the previous day.
When her condition seemed to deteriorate by the afternoon she called her relatives to the clinic. However, staff at the clinic prevented her relatives from entering the room where she was admitted.
As they were waiting outside, they were told that Phong had died.
This news infuriated her relatives who demanded an explanation of her death. Matters calmed down as soon as the police arrived and took Phong's body for a post-mortem to ascertain cause of death.
As per the clinic medical chart, Phong had an ECG check and was being given an intravenous drip.
On July 15, police summoned doctors of the clinic but only one Vietnamese doctor responded while his two Chinese colleagues did not show up nor were they to be found at the clinic.
This particular private clinic had been issued several warnings earlier and even fined for negligence by the Department of Health for selling drugs without prescription and for false advertising.