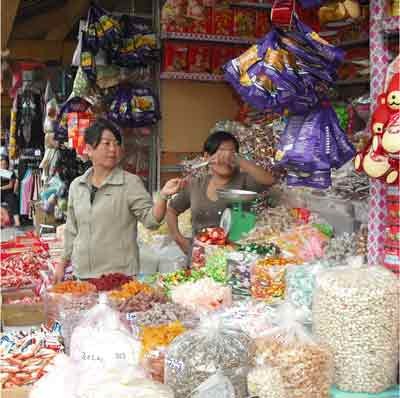 Dried fruits and jams displayed at Binh Tay Market in Ho Chi Minh City (Photo: SGGP)
The lead content in Chinese-made jams and dried fruits exceeds permitted levels, the Ho Chi Minh City Department of Health announced November 11 after testing samples taken from some city markets.
Of six samples of dried fruits and plums health inspectors took from shops in Binh Tay Market in District 6, five failed to meet food safety and hygiene standards.
Dried fruits and jams were found to have high lead content as well as cyclamate, a prohibited food additive. For instance, Songxinglianggouxilie dried plum contained 0.152mg per kilogram of lead and 2.25 per cent of cyclamate while kiwi fruits had 0.128mg of lead. The permitted level is là 0,1mg per kilogram, according to the Health Ministry's regulation on December 19, 2007
Besides, most of the foodstuffs had no details of origin or production and expiry dates.
The head of the DoH's food safety division, Huynh Le Thai Hoa, said after some vendors complained that smuggled dried fruits and jams being sold in Binh Tay Market have not been tested so far, her department has urged the District 6 People's Committee to investigate 22 shops selling such foods in Binh Tay Market and penalize violators.
Furthermore, with some vendors packing these foods in small bags to sell at schools, she said inspectors have been ordered to monitor school canteens and streets near schools and destroy dried fruits found lacking information about origin.

Related articles:
HCMC authorities test imported dried fruits, bleached eggs
Health authorities to test Chinese-made jams, dried fruits for lead