Tests found Chinese-grown fruit sold at Ho Chi Minh City markets over the past month contained excess amounts of pesticide, the Ho Chi Minh City Department of Health announced on Monday.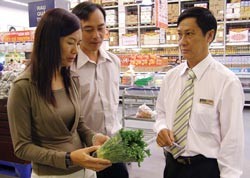 Inspectors take samples of vegetables at a Metro outlet in HCMC (Photo: SGGP)
The city's Plant Protection Department tested 95 samples of Chinese- and Vietnamese-grown fruit and vegetables sold at markets and supermarkets across HCM City between November 15 and December 15.

The tests found almost all the Chinese-grown fruit contained excess levels of pesticide and some samples also contained active elements that have been banned in Vietnam, the Plant Protection Department report said.

A negligible amount of pesticide was detected in Chinese-grown vegetables, the tests revealed.

The Plant Protection Department is now awaiting the results of tests on 11 samples of fruit and vegetables from the Metro outlet in An Phu Ward of District 2.