Chinese made bras selling in markets across Vietnam have been found to have a kind of pill and liquid packet embedded in their cup that is seemingly causing itchiness to customers who are buying the product.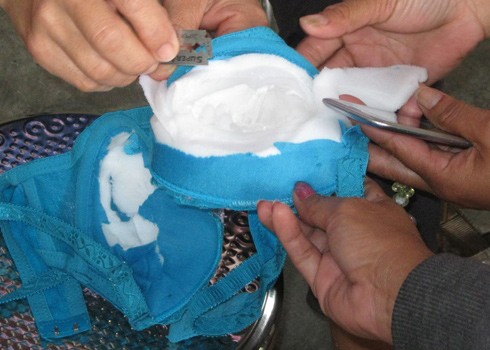 Chinese made bras are found to have strange pills and liquid packets embedded in their cups

On October 30, the Department of Market Management in the central province of Quang Nam sent some samples of these bras to relevant agencies for testing and to warn people accordingly.
Previously, employees of the Department of Market Management had seized a large consignment of such bras from a booth owned by Huynh Thi Thuy Diem at the Trading Center in Tam Ky Town of Quang Nam Province.
Diem could not present a certificate of origin for the consignment which was labeled with brand names Huang Jiao La Lian and Xinliting, written in Chinese.
In Ai Nghia Town in Dai Loc District, one 20-year-old girl experienced itchiness as soon as she put on the bra that she had bought at a shop belonging to Pham Thi Lai in the town.
Another woman in the central province of Ha Tinh also detected that her Chinese made bra worth VND80,000 had a type of pill and unidentified liquid inside it. She was worried and asked medical agencies to find out whether the liquid was harmful for the skin.
Elsewhere, in the central city of Da Nang, more than 160 such lingerie's were detected in booths in markets, following a surprise raid on October 30th by the municipal Department of Market Management.
Officials seized 160 bras with labels that read Huang Jia Ma Lian, Menghuting, Yamisi and Shengyilong.
The owner failed to present any invoices or receipts for the products. Accordingly, shop owners will face strict administrative penalties.
When the bras were cut apart, officials found two small packets filled with some liquid, and three unidentified white tablets in each. The bras will now be sent for testing, said the officials.
Meanwhile in Ho Chi Minh City, the market watchdog said it will inspect all lingerie stores and shops citywide, following reports about the strange drug coming from Hue and Da Nang.
However, Duong Thanh Hoang, deputy head of the Department of Market Management, said the officials have not detected such lingerie in the City.