The South's leading hospital -Cho Ray August 25 held a meeting to honor those who have donated their organs and celebrate its success of the 500th kidney transplants.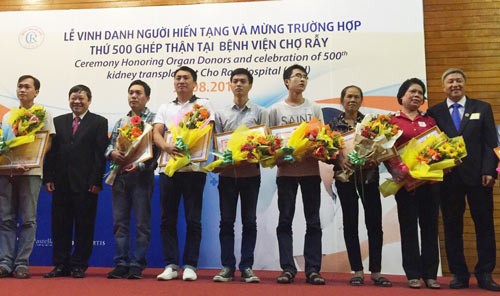 Hospital managers are honored at the meeting (Photo: SGGP)
Attending the meeting were Deputy Health Minister Nguyen Viet Tien, chairman of Vietnam's Organ Transplantation Association Professor Pham Gia Khanh, President of the Transplantation Society Professor Philip O' Connell, Professor Richard Allen, donors and their families.

In 1992, Cho Ray Hospital conducted the first kidney transplant from living donor and got success. In 2008, surgeons performed a kidney transplants from brain dead donor successfully. In July, 2015, the hospital carried out a kidney transplant from donor who died from cardiac death.

So far, the hospital has transplanted 518 cases successfully. Of which, transplants received organs from 498 living donors and 27 brain dead donors or donors who died from cardiac death.

In December, 1992, in its first kidney transplant, the hospital received assistance from Taiwanese Professor Chu Shu Lee, Professor Philip O. Connell, Professor Richard Allen, members from the Transplantation Society and leading professor from the U.S and Australia. Kidney transplant is a common activity of the Urinary tract infection (UTI) Ward. Averagely the hospital conducts four kidney transplants from living donors per week.

At the meeting , the Ministry of Health and the municipal People's Committee offered certificates of merits to five hospital managers and 11 wards in the hospitals.