Ho Chi Minh City-based Cho Ray Hospital yesterday held the opening ceremony of the Cancer Center after two year construction with the participation of Ms. Nguyen Thi Kim Ngan, member of Politburo cum deputy chairwoman of the National Assembly and Ms. Nguyen Thi Kim Tien, Health Minister.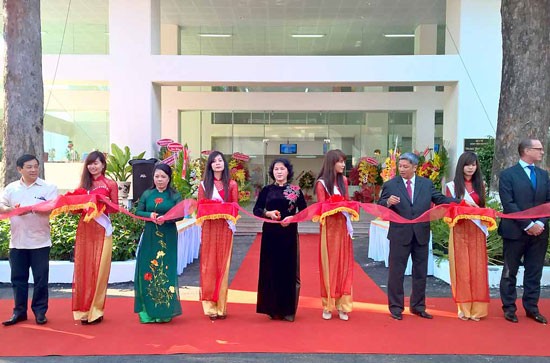 At the opening ceremony (Photo: SGGP)
According to Dr. Nguyen Truong Son, Cho Ray Hospital's director, in recent years, there is an upward trend of new cases of various cancer disease including liver cancer, lung cancer, cervical cancer, rectum cancer and stomach cancer.
Every year, the country has around 150,000 fresh cancer cases and 75,000 die of the disease. It is estimated that by 2020 there will have at least 189,000 new cases of cancer.

In Ho Chi Minh City alone, it is calculated in five years from 2005 to 2010, there were around 5,000-6,000 new cases of cancer.

As per an estimation, by 2020, the hospital will receive 400,000 cancer patients from five provinces in the South East, HCMC and 12 Mekong delta provinces.

Accordingly, the upgrade of the cancer center of the hospital aims to raise quality of treatment and examination.

The 250 bed center costing a total at VND492 billion (US$ 22,926,374) was built on the area of 1,600 meters square with 12 floors and two basements. It enables to receive around 500-600 patients a day. In addition, the center is for international cooperation, research and teaching.

At the opening ceremony, the hospital signed an agreement with representative of Austria government on of VND350 billion (US$ 16,309,412) as official development assistance to purchase medical equipment.