Cho Ray Hospital, one of the country's leading hospitals, has just set up a surgeon division for organ transplantation in order to raise people's awareness of viscera donation to save people's lives.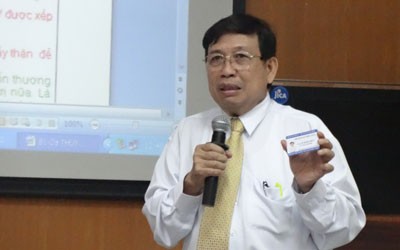 Dr. Tran Ngoc Sinh talks about the card of organ donation (Photo: SGGP)
Medical workers will perform an operation to keep some organs such as liver, kidney, hearts and lung of a dead person due to brain injury to transplant to others who are suffering kidney, liver, heart or lung failure.
It is the humane act. Accordingly, the health sector is calling for the community to donate their viscera after death to save people.

Dr. Du Thi Ngoc Thu, head of the surgeon division for organ transplantation, said that the division will receive and distribute the organ donation to ensure fairness for all people.
Initially, the division has issued leaflets to encourage patients and their relatives in the hospital to donate as well as launched a card to voluntary donors as an evidence of donation.

Though there has been much progresses in transplantation, 1,000 people were transplanted kidney, 11 were transplanted heart and one was transplanted viscera while approximately 6,000 people in need of being transplanted viscera.
Tran Ngoc Sinh, head of the Faculty of Urinary Tract Infection (UTI) said that the viscera donation is mainly from patient's relatives who are alive so just those suffering kidney or liver failure can receive donating organs. It needs donations of all organs from dead people to save more patients.
From 2008, Cho Ray Hospital has received seven donations of viscera from brain-injured dead people and 13 people have been transplanted.