The Ministry of Health's inspectors found violations of hygiene and safety regulations at food processing and sales facilities in Ha Noi's Hoang Mai and Hai Ba Trung Districts, where most of the victims of the current outbreak of acute diarrhea reside.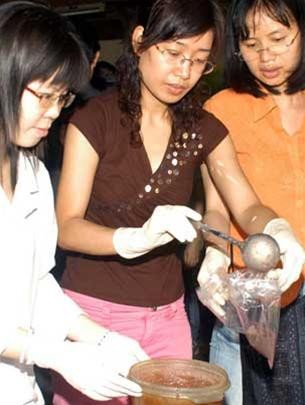 Medical officials take samples of dog meat for tests (Photo:TTO)
Inspections conducted on April 20 found shops and processing areas to be dirty and full of litter. More critically, many shops had no business certificates. 
The inspection team imposed severe penalties on these stores and asked then to shut down.
The ministry said that more acute diarrhea patients are hospitalized every day, bringing the nationwide total to 1, 900.
Dr. Nguyen Huy Nga, head of Preventative Health Department, said that in spite of a reduction in the number of acute diarrhea patients in Ha Noi and in the northern provinces of Thanh Hoa, Ha Tay, and Hai Phong, government and medical officials should still keep a close watch on these provinces since there is a high risk of re-occurrence.
In these provinces, environmental conditions and food sanitation remain poor. Furthermore, it's hard to control healthy-looking residents with the virus inside who travel from place to place. Hence, the ministry's men will stay in these provinces and keep a lookout.
Medical officials from the Construction Hospital said that they are treating Hoang Thi Lan Anh, 23, a student, who suffered acute diarrhea after drinking ice tea at a roadside eatery near Phung Khoang lake in Tu Liem District.
Districts can announce that they are disease-free if no patient has tested positive for cholera within the last 14 days, said Dr. Nga.
Five inspection teams have shut 16 restaurants, bars and market in five days, according to Mr. Tran Dang, Head of Ministry's Food Administration Department. The inspection campaign will continue in May.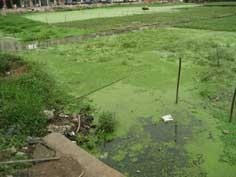 Water-fern and Ipomoea aquatica are covered the surface of the Ho Me Lake which students and volunteers carried out their environmental sanitation and disinfection on April 19
Some 350 volunteers, including members of the Ha Noi Communist Youth Union and the employees of Ha Noi-based state agencies like the Health Department and the Preventative Health Department, carried out environmental sanitation and disinfection for cholera at Ho Me Lake in Dong Da District on April 19.
They issued over 1, 000 pamphlets about how to prevent acute diarrhea to passers-by. Volunteers and students will distribute the pamphlets at high-risk places like markets, bus stations, schools, dormitories, hospitals and boarding-houses with high population density.