Inspectors from the Department of Health in Ho Chi Minh City conducted a thorough check of companies importing precursor chemical, Pseudoephedrine' (PSE), a basic ingredient in cold and flu medicines, on September 6.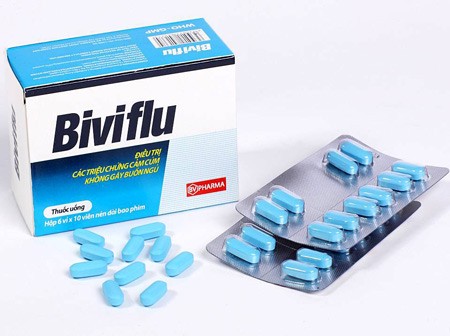 Biviflu, a medicine containing the Precursor PSE
At the National Pharmaceutical Company No.2 (CODUPHA), the inspection team verified all documents relating to the import and sale of PSE. From January 1 to July 14, 2011, the company imported 15,173 kilos of PSE, sold 12,223 kilos and stocked 2,950 kilos.
It also imported 8 million pills containing PSE from Sunward Pharmaceutical in Singapore in order to sell to 9 pharmaceutical companies and 13 pharmacies.
The inspectors verified that since the beginning of 2011, BV Pharma Joint Venture Company had bought around 3,555.670 kilos of PSE from domestic companies, including CODUPHA above, and have directly imported 500.07 kilos so as to produce the finished medicines Activenose and Biviflu to sell to five other companies.
According to a report presented by the HCMC Department of Health to the HCMC People's Committee on the management of PSE and medicines containing the ingredient, BV Pharma was found to manufacture medicines from PSE in accordance with proper laws and has already received approval from the Ministry of Health.
Its import projects were also granted permission by the Drug Administration of Vietnam. The company does follow strictly all manufacturing procedures and possesses legal contracts.
The Ministry of Health issued an official dispatch on September 6 to announce the task of managing PSE, to the media. The import of PSE is legal since this ingredient is not an addictive substance. Related ministries and departments are exercising strict control on its import and use at the moment, to avoid loss or overuse.
Moreover, all import and export as well as purchasing of PSE and medicines containing PSE is always censored carefully by the United Nations Office on Drugs and Crime and the Standing Office on Crime and Drugs under the Ministry of Public Security. Only when companies receive approval documents from the above offices can they carry out the import and export activities.
In addition, companies manufacturing medicines containing PSE only receive a license to sell from the Ministry of Health after they fulfill all relevant criteria of such things like infrastructure and workforce.
 
They also require an approval for material in accordance with a circular drawn by the Ministry of Health.
Explaining the sudden increase in demand for PSE this year, the Ministry of Health said that PSE was officially used to replace the Precursor Phenylpropanolamine, which had been banned in Vietnam for preparation of cold and flu medicines. The abnormal weather conditions this year and the spread of influenza had increased the demand for PSE.
Regarding the concern that finished products containing PSE are packed in large containers (i.e. boxes of 200 pills, 300 pills, 500 pills and 1,000 pills), which pose a risk of being collected for illegal methamphetamine manufacturing, the Ministry confirmed that there is no law forbidding large size packaging.
On the contrary, this has created advantages for easy transportation and simultaneous treatment of flu in large areas as well as keeping costs down. However, if the authorities discover any illegal activities concerning PSE, the Ministry will consider adding stricter regulations on its packaging.
Nevertheless, to manage this ingredient better, the Ministry of Health encourages the replacement of PSE by the active ingredient Phenylephrine and working in close cooperation with the Office of Crime and Drugs to deal with all crimes relating to addictive ingredients.