Doctors at Children Hospital No.1 in Ho Chi Minh City have miraculously saved the life of a 12-year-old boy who was brought in suffering from a severe dengue shock syndrome and duodenal rupture.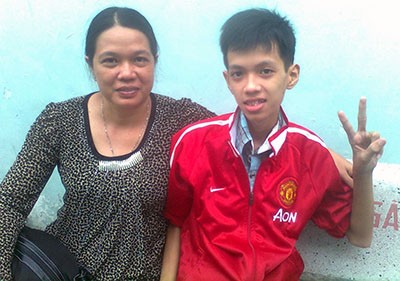 The boy and his mother
The 12-year-old boy, hailing from Cai Lay District in the Mekong delta province of Tien Giang, was brought in to Children Hospital No.1 in Ho Chi Minh City after suffering for five days with dengue shock syndrome, respiratory problems, liver damage, blood clots and gastrointestinal bleeding.
Doctors rushed to apply invasive arterial blood pressure and central venous pressure as well as a breathing apparatus.
The boy was given blood transfusion and frozen fresh plasma to curb blood clots and gastrointestinal bleeding.
However, the development of this disease is unpredictable as on the seventh day of treatment, which is considered a recovery period, he began suffering shocks again with quick pulse, low pressure and abdominal distention.
He was given ultrasound scans which showed excessive blood in his abdomen and blood congestion in the duodenum.
Moreover, the boy suffered from severe anemia and hematocrit measured only 22 percent; accordingly, more blood and frozen fresh plasma was transfused.
In consultations, doctors from faculties of dengue fever, intensive care, hematology, and anesthesia decided to perform a surgery on the boy. They were shocked to discover a huge three centimeter duodenum rupture.
The boy is now recuperating after being discharged from the hospital.