Doctors at the Pediatrics Hospital No.2 in Ho Chi Minh City have successfully performed a surgery to separate four-month-old conjoined twins on December 19, who were born with joint abdomen and chest.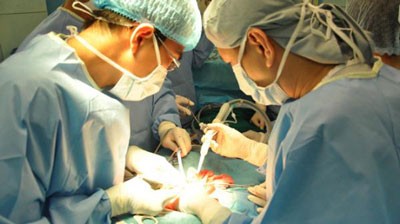 Doctors perform the operation for the twin at the Pediatric Hospital No.2
Doctors separated the twins who had separate gall bladders but joint at the extreme end of the liver, diaphragm and pericardium - a tough double layered membrane which covers the heart.
By 3pm on December 19 the operation was completed and the babies were transferred to the intensive care unit.
Dr. Truong Cong Dinh, deputy head of the hospital, said the surgery was successful but they were preparing to face some complications during the post-operation phase.
The twins were born in August at the Tu Du Obstetrics Hospital and brought to the Pediatric Hospital No.2 soon after. They are the first born of a 23-year-old woman from the central province of Ha Tinh.
She knew her babies were conjoined in the 36th week of pregnancy, but decided to have them anyway because doctors felt the babies could be separated through operation.