Ho Chi Minh City recently introduced the old-fashioned practice of the family doctor, a model plan that offers promise of much comfort to elderly patients and will also reduce overloading in hospitals.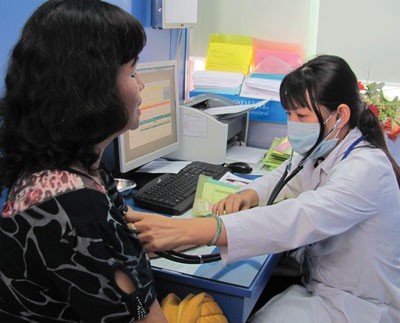 A 'family doctor' examines a patient in the hospital in District 10 (Photo: SGGP)
The City has brought in the practice of the family doctor in districts, which requires better training of health workers and strengthening of   preventive healthcare.
By this model, HCMC authorities want to be able to reduce overloading in hospitals by at least 70 percent by 2015.
Although it is only 9am and the first day of the week, there are few patients in the area of the family doctor in the Hospital in District 10.
Elderly patient Vu Thi Chieu said she arrived at the hospital at 7am and has already completed all tests for blood and urine, and now will go home after giving the result to the doctor and collecting her drugs.
Mrs. Chieu has had high blood pressure and diabetes for four years, but she says that under the family doctor model she does not have to wait too long any more, as waiting time has been cut down.
Dr. Tran Thi Minh Nguyet said doctors at the hospital are examining middle-aged insurance card holders with chronic diseases such as high blood pressure and diabetes.
Dr. Nguyet said she feels very comfortable ever since she was assigned to work in the family doctor section, as she has more time to explain to patients about their diseases.
The Hospital in District 10 is one among two hospitals to implement the family doctor model in the City. Dr. Le Thanh Tung, deputy director of the hospital, said this section receives around 150 patients a day, reducing overloading and giving more consultation time to   patients. The model has been quite successful in reducing overloading.
In addition, the Hospital is trying to work on software that will help doctors examine from far distances and provide consultation to patients via the Internet, Dr. Tung said.
The Department of Health in HCMC has piloted this model at the hospital in Binh Tan District. If the model works well, it will be implemented in other hospitals across the City.
Lecturer Nguyen Thanh Hiep of Pham Ngoc Thach Medicine University in HCMC said family doctors are trained to handle common diseases and ailments. They can help screen patients as well as patients' relatives in preventing transmission of diseases. The development of the family doctor model will greatly improve the quality of healthcare at the grassroots level.
Identifying that the family doctor as essential will increase effectiveness in treatment and lower expenses for patients, the department worked out the model 10 years ago with consultation of Belgium Lierè University. Patients who used the new service would be covered by health insurance.
Medical experts said private clinics should contribute towards the   family doctor model. Health Minister Nguyen Thi Kim Tien agreed with the idea, saying that more doctors need to be trained for private clinics, and insurance card holders can examine and receive medicines in private clinics same as from state hospitals.


The Ministry of Health plans to carry out a pilot project for the family doctor model in Hanoi, Da Nang, Thua Thien-Hue, Khanh Hoa, Can Tho, Tien Giang and HCMC, to improve the quality of primary healthcare in the general public and ease overloading at hospitals.
At least 50 percent of City hospitals, 100 percent district hospitals and 10 private clinics will participate in this model.
According to the Ministry of Health, few students are attracted towards the medical profession. Only about 500 doctors have been trained in family medicine throughout the nation in the past 10 years, an incredibly low number compared to the needs of a population of more than 80 million.
Health Minister Nguyen Thi Kim Tien said that the health sector must create favorable conditions to attract students to study and work in the field of medicine.