While hand, foot and mouth disease, dengue fever, chicken pox are breaking out in Vietnamese cities and provinces, measles has still remained a concern, patients flock to hospitals in Ho Chi Minh City; accordingly the city is short of many kinds of vaccines.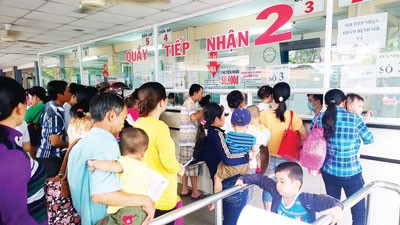 Parents and their kids are queuing in Children Hospital No.1 (Photo: SGGP)
A meeting has been convened by the Department of Health with centers of preventive medicine to discuss solution.

The city's center of preventive medicine reported that by April, it has 1,301 measles infections, 509 chicken pox people, 2,607 dengue fever cases and 2,944 people contracting hand-foot-mouth disease.
These above diseases have increased dozens of times higher than same period last year.

Medical officials said that hand-foot-mouth are growing at an alarming rate in 24 districts with hot-pots in districts 8, Binh Tan and Tan Phu. The peak season of the disease is in middle of May.

Nguyen Thanh Hung, Children Hospital No. 1's director, said that as of May 6, the hospital is treating 50 measles kids and 51 hand-foot-mouth toddlers. In Children Hospital No.2, 40 hand-foot-mouth babies and 68 measles kids with pneumonia complications are being treated.

Despite the city's effort to implement measles vaccination campaign for children under three, the disease continue to rise with no sign of abating. Around 250,000 kids will be immunized in the campaign.
Dr Nguyen Huu Hung, deputy director of the Department of Health, said though the city health sector makes effort to prevent, many dangerous infectious diseases are still plaguing at present.

While growth of infection cases shows no sign of abating, many medical clinics are short of various vaccines. At the reception desk in Pasteur Institute, Children Hospital No. 1 and 2, the Nutrition center, a notice board announced that the institute has no six-in-one, five-in-one vaccines and vaccine against chicken pox.
Since chicken pox occurred in January, thousands of children have infected with the disease yet vaccine has gone. People have to wait as the Ministry is testing quality of 77,000 dozes of Varicella Vaccine imported in February.

The important thing is to publicize how to prevent spread of these diseases amongst peopan, focus on treating people contracting dangerous diseases and enhance disinfection in houses, schools, said Dr. Nguyen Huu Hung.