Around two million residents of Ho Chi Minh City could catch swine flu, with a possible 20 million Tamiflu capsules needed, as swine flu is rapidly spreading throughout the city, the steering committee on A/H1N1 Influenza Prevention said at a meeting on July 27.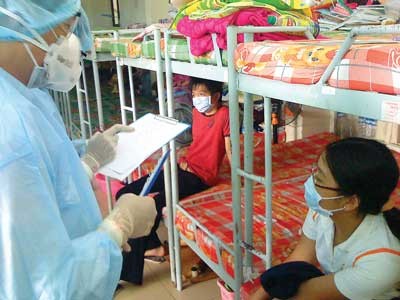 A medical worker explains how the flu is transmitted to high school infected students . The flu is widespread now (Photo;SGGP)
Although it is just a prediction, managers in the city's health sector sought to quickly find a solution, including sending a report to the Ministry of Health to ask for assistance.
Tamiflu, which is being used worldwide to treat those with swine flu, is solely produced by La Roche, and exclusively imported by Vimedimex Medi-Pharma and distributed by Diethelm Vietnam.
The city has currently only 13,000 Tamiflu capsules left. Subsequently, the city's Department of Health has urgently asked the ministry to provide a further 30,000 capsules, as well as spend purchasing Relenza, a very effective remedy for the treatment of influenza.
Even though Tamiflu is still under patent by La Roche, the Government has obtained an agreement that three chosen pharmaceuticals will import materials from the company to produce the medicine when in need, said the head of Vietnam Drug Administration, Dr Truong Quoc Cuong.
The country can produce around 10 million capsules, according to Dr Cuong.
Dr. Cuong also announced that Vietnam is stocking medicine and medical equipment to support infected areas, as well as cooperating with WHO and other international organizations to mobilize assistance with Tamiflu and possible vaccinations to protect other areas of the country.
On the issue of people self-medicating with Tamiflu, Dr. Cuong warned the public not to do so, as without medical supervision people may give the virus an opportunity to resist the medicine, making the flu more dangerous.