The number of children infected with hand, foot and mouth disease (HFMD) rose suddenly last week, children hospitals No. 1 & 2 and Tropical Hospital in HCM City recently announced.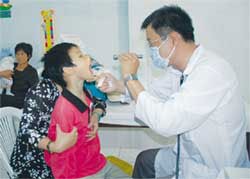 A doctor examines a child patient at the Children's Hospital No.2
Dr. Truong Huu Khanh, head of the Infection and Neurology Department at Children's Hospital No.1, said that his department had daily received more than 20 children with HFMD.
Among them were five cases with serious nerve complications and needed respirators to breath, he added.
Although a HFMD epidemic has not broken out, the city has recorded five deaths due to the disease since the beginning of the year, said the city's Preventive Health Center.
The peak season for HFMD usually falls in September, said Dr. Nguyen Dac Tho, director of the Preventive Health Center.
If children present symptoms including erythematous macules and blisters in the mouth, palm or sole of the feet, parents should take them to the health centers for treatment, he added.