Health Department officials will step up their inspections of alcohol shops and manufacturers in Ho Chi Minh City and surrounding provinces after a spate of deaths from alcohol poisoning.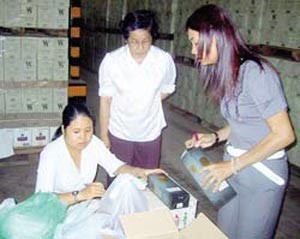 The inspectors take alcohol and liquor samples at the Vietnam Alcohol and Liquor Co. Ltd. in district 6 (Photo: SGGP)
Tests from samples of alcohol taken from drinking shops and wine manufacturers over the past month found very few of the alcoholic products on sale met health and safety standards, Health Department officials announced this week. 
At least 12 deaths from alcohol poisoning have reported in Ho Chi Minh City over last three months, according to the Department of Health.  
Health Department Inspector General Dr. Nguyen Minh Hung said departmental officers had inspected nine grocery stores and seven alcohol merchandisers since October, taking 71 samples for testing.  
"Only 23 of those samples met sanitary and food safety standards," Dr. Hung told reporters on Monday. "Methanol levels in 12 of the samples were higher than the allowable level of methanol, 35 of the samples contained high levels of methanol, aldehyde and furfurol and one sample was found to be more than 4.5 percent methanol."  
The inspectors banned shopkeepers from selling 43,694 liters of synthetic ethyl alcohol, 7,300 liters of industrial alcohol and 19,000 liters of bottled alcohol, ready to be sold to consumers.  
Inspections by officials from district-level health agencies in more than 24 districts uncovered 14 illegal enterprises manufacturing and trading unsafe alcohol drinks. Inspectors seized 5,000 liters of alcohol and sent 41 samples for testing. Of the 18 samples tested so far, only one met sanitary and food safety standards.  
In a report sent to Department of Health on Monday, the city's Market Management Office said inspections of 26 traders had resulted in 49kg of flavoring used to make alcohol drinks being seized, along with 912 liters and 1,200 bottles of liquor of various kinds.  
On October 20, the Health Department sealed 1,800 liters of alcoholic drinks previously seized by the Market Management Teams of Binh Thanh District, 2B and 8B.  
HCMC Health Department Deputy Director Dr. Le Truong Giang said departmental inspectors will step up their inspections of drinking shops and alcohol makers in the lead-up to Tet.  
Deputy Inspector General Bui Duc Phong said inspectors will visit all districts of Ho Chi Minh City, and neighboring areas such as the Mekong Delta province of Long An and the southeastern province of Tay Ninh. The inspections will focus on food hygiene and safety certification of drink manufacturers, the origin of raw ingredients, documents to import ready-to-drink alcohol and alcohol concentrates. The inspectors will take sample from every manufacturer for testing.  
Inspectors will also check the alcohol content and ingredient list on labels is accurate. 
Dr. Giang told Monday's press conference much of the alcohol sold in the city was dangerous to drink.  
"The main reason for the many recent deaths from alcohol in city is the alcohol sold in the market recently has high levels of methanol," he said. "However, officials face difficulties punishing those caught making and selling the illegal liquor." 
"There are not yet any regulations to punish enterprises that make or trade food and drink additives. So even when officials uncover wrongdoing, they have hardly any ways to punish the offenders. Moreover, officials can only test a small sample of the alcohol on sale to see if it's safe."   
Related article:

Unsafe alcohol found in northern provinces