Health Minister Nguyen Thi Kim Tien paid a visit to the Tumor Hospital in Ho Chi Minh City on January 14 to discuss with the hospital management heads on ways to reduce overloading of patients.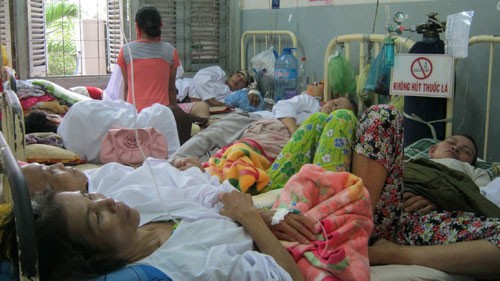 Two or three patients in one bed
Le Hoang Minh, director of the hospital, said in 2012 the hospital had received more than 372,333 patients, 70 percent from provinces across the country.
The numbers of patients increase by seven percent   every year, which is a real burden for the hospital with out-of-date equipment and shortage of personnel, besides having to cope with overloading.
The hospital has already tried many ways to tackle overloading, such as decreasing the number of inpatients, carrying out consultations by appointment only, and delivering home-care services.
The hospital has also sent personnel to two satellite hospitals in District 2 and Hospital 175.
The Health Minister said that the serious overloading in the hospital should be dealt with as soon as possible by adopting countermeasures.
The Department of Health in HCMC should step up the construction of a second unit at the hospital or at satellite hospitals to curb this problem, she said.