Ho Chi Minh City-based Oral and Maxillo facial Surgery hospital yesterday organized many activities to respond to the World Oral Health Day on March 20.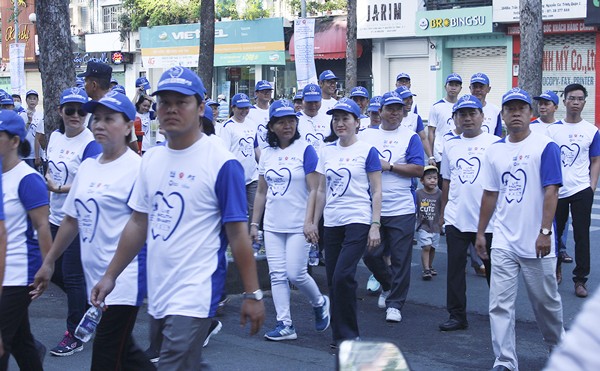 Staffs of the hospital walk to respond to the World Oral Health Day (Photo: SGGP)
In response to the Day, the hospital launched free-of-charge examination and consultation program to residents from March 20-26 as well as gratis treatment to poor locals in Nguyen Cu Trinh Ward in District 1.

Deputy Head of the municipal Department of Health Dr. Nguyen Huu Hung, said that currently, the rate of people with dental disease especially kids has reduced drastically. However, in rural districts and outlying areas, residents don't take heeds to teeth care.

Accordingly, to prevent dental disease, dental clinics in HCMC and schools need to increase information to raise students and parents' awareness.
For international integration, Dr. Nguyen Duc Minh, director of the hospital, said that in the future, the hospital will set up a club to provide dental cosmetic services to tourists.