Recent massive traffic gridlocks have drastically slowed victims' transport to hospital emergency services and prompted a proposal from Ho Chi Minh City's Trung Vuong Hospital to government for a new management scheme which would monitor ambulances and their routes online.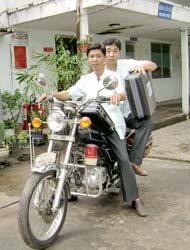 Motorcycle ambulances are always ready for the task.
Upon dialing the 115 emergency services number, residents' addresses would be entered into a GIS e-map transmitted immediately to administrative agencies.
Responsible officials would then dispatch ambulances via routes optimized using the e-map to account for traffic jams and a variety of other critical factors.
Trung Vuong hospital's administration also innovatively suggested supplementing internationally traditional ambulance vans with its own system of using motorbikes to weave and squeeze through congestion in considerably less time than the bulkier, less maneuverable vans.
Trung Vuong has apparently been using motorcycle ambulances since 2001, said Hospital Director Le Thanh Chien.
We have to "socialize" emergency services to get victims to hospitals as soon as possible, he said.