Untreated wastewater from medical establishments pose serious health risks to humans, as it contains germs and viruses that cause diarrhea, typhoid and dysentery. The danger of hospitals' untreated effluents discharging into the environment is enormous, with hospitals complaining that their wastewater treatment systems are too old. In response, HCMC's hospitals are to receive new treatment systems, it was recently announced.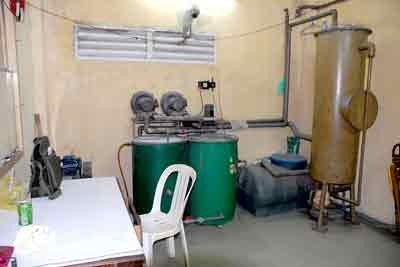 The Tumor Hospital's wastewater treatment system (Photo: SGGP)
After the Ho Chi Minh City Department of Natural Resources and Environment announced that the Trauma and Orthopedics Hospital had not treated its effluent adequately, Do Trong Thuy, chief of the hospital's Administration Division, explained the wastewater treatment system, built in 1994, was too old to remove physical, chemical and biological contaminants.
Moreover, the hospital's treatment system cannot meet legal standards, as the hospital receives over 3,000 patients a day, who produce around 500 cubic meters of waste water, while the treatment system can only handle 400 cubic meters a day, said Mr. Thuy.
Mr Thuy's colleague at Cho Ray Hospital, Nguyen Quoc Tuong, said his hospital was built when the French governed the country in 1900 and used simple on-site alternative septic tanks.
Japan rebuilt the hospital in 1972, using biological technology. However, it just meets the requisites necessary for 500 beds though today the hospital admits over 30,000 people annually.
Similarly, the Tumor Hospital endures the same situation when its sludge treatment system was set up in 1991, but now the number of inpatients is threefold compared to that in 1991. It cannot satisfy the national standard of wastewater discharge.
The city's government has approved the building of wastewater treatment systems in hospitals by using State funds.
The total investment for the project to build Cho Ray's effluent treatment system, with a capacity of 4,200 cubic meters of water, is VND6 billion, said Mr. Tuong.
The hospital invited bids and started construction in November, 2009. The system is expected to put into operation in the second quarter of 2010. The old system will still be used until the new system is completed.
The Tumor Hospital's deputy head, Trinh Xuan Dung, announced that a new wastewater treatment system, at a total cost of VND7 billion and a capacity of 700 cubic meters of water, would go into operation in April 2010.
The hospital will use a temporary treatment system for the meantime.
Tran Nguyen Hien, from Department of Natural Resources and Environment, said hospitals have concentrated on investing in effluent treatment systems, however, they have not satisfied legal standards.
Currently, some hospitals like Children I, Hung Vuong, Tu Du, Nhan Dan Gia Dinh, are calling for social contributions for building new systems.
Ten other hospitals have not begun construction, citing changes to original proposals.
Sai Gon General Hospital, the Trauma and Orthopedics Hospital, Cu Chi General Hospital and Institute of Herbs have just set up plans for bids.
Relevant agencies have imposed administrative penalties on hospitals, which delayed construction of new systems. However, agencies cannot close the old systems down.
Some people have questioned whether the Department of Health and relevant agencies should have meted out heavier punishments in a bid to force hospitals to speed up the building treatment systems.