Health authorities in Hanoi on July 16 closed down the Maria Chinese Clinic on 65-67 Thai Thinh Street in Dong Da District after the death of a 34-year-old woman patient on July 14, for which three Chinese doctors in the clinic have been held responsible.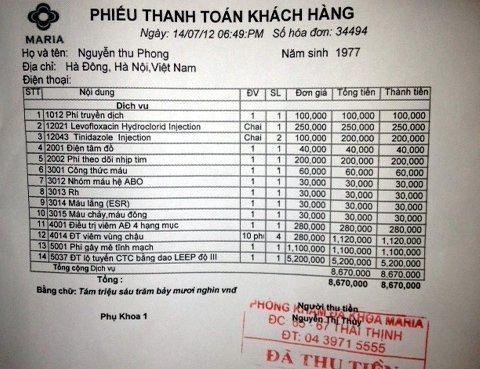 Clinic bill of the dead woman patient
Speaking to the health authorities, Dr. Do Y Na said that she had handed her resignation in February 2011 to the Department of Health and the An Thinh Company that owned the Maria Chinese Clinic, and presently Dr. Pham Thi Trang was in charge of the clinic. She was therefore unaware of any treatment procedures that were being followed by the clinic.
However, Hanoi health authorities affirmed that Dr. Na will still be held accountable for the tragic death of the woman as well as other violations at the clinic.
Besides, Tran Nhi Ha, from the Department of Health, said no   resignation letter from Dr. Na or the An Thinh Company had been received at the department.
Dr. Na expressed her surprise that Chinese doctors working in the clinic were being accused, whereas the clinic had no such doctors on their pay roll.
Nguyen Khac Hien, director of the Department of Health in Hanoi, confirmed that his department had given license to six Vietnamese doctors and two Chinese helpers; hence the Chinese doctors that were being accused must be working illegally at the Maria Chinese Clinic.
According to relatives of Nguyen Thu Phong, who died at the clinic on July 14, the police had asked the Army Forensic Institute to conduct a post-mortem on her body to ascertain cause of death. Police seized many medicine vials and documents from the clinic before the investigation.
Police were investigating the involvement of three Chinese doctors into the death of Nguyen Thu Phong. Zhou Ji Anijao had diagnosed Phong with cervicitis in cervical ectropion, vaginitis, and pelvic inflammatory disease and had written out a prescription for her.
Phong was asked to have a blood test and an electrocardiogram test. Deng Qin Zhi, another Chinese doctor, assigned Nurse Bui Thi Tham to transfuse bottles of fluid into the patient's body. Zhang Ling Gong anaesthetized and Deng Qin Zhi conducted cervical cauterization to destroy abnormal cells on the opening of the womb.
A couple of hours later, Phong felt very fatigued and called her relatives about her condition. When they arrived they were not allowed to meet Phong and an hour after their arrival, the clinic announced that she had died of unknown causes while undergoing treatment.
When police verified the status of the three Chinese doctors who were being accused, they found that all three had valid work licenses and were legal immigrants; however, when they went to their rented premises the three doctors had absconded.
Related article:
Chinese doctors absconding after death in clinic