For years, the National pharmaceutical No. 2, its business transaction name CODUPHA, has not only distributed pharmaceutical raw materials, cosmetics, medical equipment around the country but also undertaken social activities such as providing free treatment and medicine for the poor in remote regions, granting charitable houses to previliged families and supporting flood victims. To honor excellent workers, Codupha has offered to be the major sponsor for the sixth Ton Duc Thang Award 2006.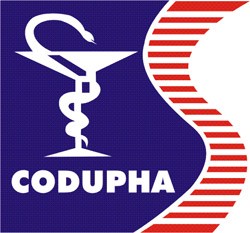 The logo of Codupha
Having overcome many difficulties, Codupha is more active and stable. It has now become a leading health care company.
Besides its achievements in business, Codupha has been known as a benefactor. Annually, the company has undertaken social activities such as providing free treatment and presents to the poor in the remote regions and scholarships to needy students, supporting flood and natural disaster victims.

"The Ton Duc Thang Award is meaningful because workers not only produce products to serve society but also contribute to enhancing the living standard quality. Their contribution to the national struggle for independence and freedom has been acknowledged in the history," Mr. Pham Anh Kiet, Deputy Director of the company said. " In the cause of national industrialization and modernization, it is necessary to honor good workers because this action has material value, commits to work performance and encourages workers to continuously improve their skills which help create high quality products made in Viet Nam."

Their initiatives in improving the quality of labor techniques and saving labor cost have brought about efficiency in production, contributing to Viet Nam's higher position in the international community, especially in the modern times when Viet Nam wishes to join the WTO.