For the first time ever in Viet Nam, someone was diagnosed as suffering from the inhalation of coffee dust, said a health care worker Thursday.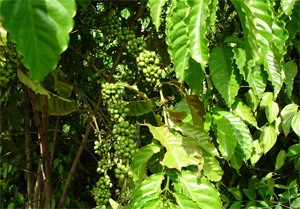 Coffee workers usually suffer airway disease after years of working in a coffee plantation (Photo:U.P)
The Mine-Laborer's Health Clinic treated coffee worker Pham Ngoc Hiep, 31, from the highland province of Lam Dong, with bronchoalveolar lavage (BAL).
The patient had worked on a coffee plantation for 10 years when he began suffering from chronic cough, breathlessness and tightness of the chest three years ago.
When the symptoms took a turn for the worse, making it difficult for him even to walk, his family decided it was time to take him to a health clinic. It was there that his lungs were found to contain large amounts of coffee dust.
After further treatment, Mr. Hiep will leave the hospital next week. The medical bills will be covered by the hospital.