An odontology conference and international exhibition opened in the northeastern province of Quang Ninh on July 30.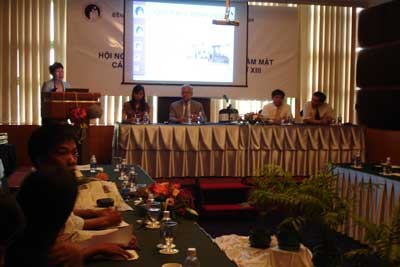 A press conference was held in Ho Chi Minh City before another international maxillo-odontology (Photo : U.Phuong)Sur
The event, which was held by the Ministry of Health's National Institute of Odonto-Stomatology (NIOS), attracted a large number of scientists, dentists and technicians from both Vietnam and overseas.
The participants were introduced to the latest techniques and scientific advances as well as equipment and materials that are used in odonto-maxillo-facial operations.
Deputy Health Minister Nguyen Thi Xuyen said that in recent years, Vietnam 's odonto-maxillo-facial sector and the NIOS have made many important advances, which have helped to improve the quality of dental care and treatment.
The deputy minister said a project was already underway to provide oral care to millions of students in eight provinces and cities across the country.
A programme of salt fluoridation will soon commence in the northern mountainous province of Lao Cai to prevent tooth decay in local people, she added.
At the exhibition, a wide range of new materials and state-of-the-art equipment used in the odonto-maxillo-facial sector are on display. The show will run until Jul 31.