The swine flu A/H5N1 virus has mutated into seven antigen groups since it appeared in the country, according to a conference on the virus in Hanoi to discuss last year's results and plans for 2010.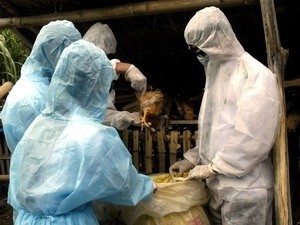 Health officers destroy infected poultry. (Filed photo)
The virus's future development would be hard to predict, Dr. Nguyen Huy Nga head of the Preventive Health and Environment Department told the national swine flu conference in Hanoi March 12.
The same day of the conference, the Preventive Health and Environment Department reported that a 25 year old woman was being treated for the virus in Bach Mai hospital in Hanoi. She had fallen sick on March 5.
Five cases, all fatal, were infected with A/H5N1 virus in 2009 nationwide, the conference heard.
In the first three months of this year in Vietnam, there have been four cases of the virus, including a 38-year old woman who died in Mekong Delta province of Tien Giang, said Nga.
Health experts warned that another new stronger virus could emerge from a combination of current strains to cause a new pandemic.
Nga said the steering committee for A/H1/N1 flu prevention needs to step up its monitoring and quarantine activities especially in hotspots in case a new more virulent strain develops.
Residents should not sell, buy or kill poultry without testing first and should never eat poultry that has died of an illness.