Conjoined twin girls who were born in the northern province of Hai Duong have been transferred to the National Pediatrics Hospital in Ha Noi.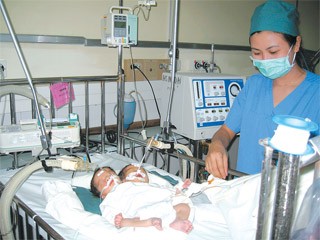 The twins is taken care of at the hospital
The girls have two heads, necks and spinal columns but only two lungs, two legs, one heart, one liver and one genital organ, Dr. Tran Minh Dien told reporters.
 
When they were being examined after arriving in Ha Noi, the twins suffered a life-threatening respiratory collapse and had to be put on artificial respiration.

They were also given an intravenous saline drip to counter dehydration.
The hospital's doctors say the organs shared by the twins definitely favor one over the other.