Surgeons at the Sai Gon General Hospital have saved the life of a construction worker that suffered multiple life-threatening injuries on Monday.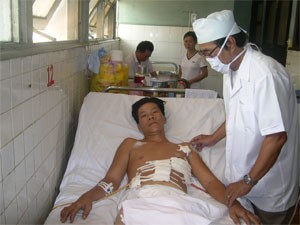 Huynh Cong M. after operation (Photo: Ngoc Truoc)
A four-meter long steel rod, 8mm in diameter impaled 36-year-old Ho Chi Minh City resident Huynh Cong M., as it fell from the fourth floor of a house.

The rod, which entered his body through the left shoulder and passed through his chest and abdomen before exiting through his right hip, caused severe damage to his lungs, heart, liver, diaphragm and a major vein.

Surgeons from the Sai Gon General Hospital, supported by others from the Cho Ray Hospital operated for 6 hours to save the man's life.